Glen Anthony Y-arta AY02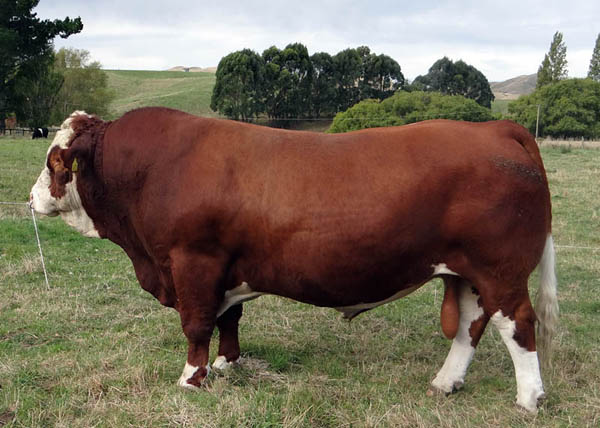 SUPREME CHAMPION SIMMENTAL AND MEAT & WOOL CUP WINNER - THE AUCKLAND ROYAL EASTER SHOW 2014 & 2015
An excellent young sire. Y-ARTA is polled and now at 6yrs of age is still very sound in his feet and legs. From a very young age he has displayed a very full, smooth muscle pattern with great softness, thickness and depth. He has retained his excellent libido and is still doing a great job paddock mating. His frozen semen has been well accepted in Australia and New Zealand where combined semen sales have topped the $10,000 mark. Please contact Semex in Australia or New Zealand if you wish to purchase semen.
In the main Y-arta's sons are early maturing and show Y-arta's thickness and depth. They all have good quiet temperaments and EBV's for birthweights ranging from +0.3 to +2.9 as well as inheriting Y-arta's excellent EBV's for direct calving ease.
New Zealand Beef Expo May 2016 - Y-arta sons judged champion and reserve champion Simmental bulls. Congratualtions to John & Sue Hammond, the first stud to purchase Y-arta semen, they won champion Simmental bull with their rising 2yr old Y-arta son Ruaview Pine Tree who went on to sell for $14,000 to the Glenside Stud from Otago.
The reserve champion bull, another Y-arta son, was Glenanthony Caesar who sold to stud breeders Sarah & John Hammond from Northland.
Y-arta is now a trait leader for direct calving ease and gestation length.