2010: An outstanding year
BEEF EXPO - AN INCREDIBLE RESULT FOR THE STUD
Tuesday 18th May - What a day! Two bulls (both by Yardstick) stood out from the crowd: Glen Anthony Waterford - Champion Simmental, Glen Anthony Warwick Reserve Champion Simmental. Both showing Yardstick's outstanding attributes of thickness, softness and capacity.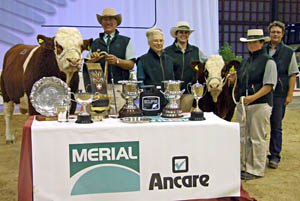 Glenanthony Waterford with the whole GlenAnthony Team and the cleansweep of Simmental trophies
Thanks to Merial and the Ancare brand for their generous sponsorship.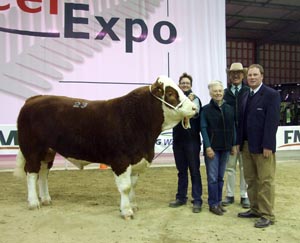 Glenanthony Warwick, a much younger bull than Waterford is a scurred son of Yardstick with an excellent temperament and great beef qualities.
He went on to sell to David and Jane Timperley for $7,500 and travelled south to their new stud at Cave near Timaru.
Glen Anthony Xcess, not yet a yearling heifer weighing 480kg and led by Ashley Dingley, sold for the top price so far this year for a stud female of $6,200. to Brian Aldridge of Lincoln, Christchurch.
What a thrill to have our whole team involved. Sue Wyley winning the best Leaders Trophy, Glennis leading her heifer and hoping all the time that it wouldn't be sold (wish granted), Ashley leading the Champion Heifer expertly and Amey Hoogenbloom doing her own thing in the steer class winning The Lightweight European section both on the hoof and on the hook - Congratulations!
Thanks to Craig Chapman of Straight Furrow for these excellent stud photographs.
---
STEAK OF ORIGIN 2010
To cap the day off Glennis and I attended the Steak of Origin gala dinner as finalists. What excitement when we went on stage to win The European section with a sirloin steak from a 20 month Simmental heifer that had wintered over with Norm and Sue Wyley - FANTASTIC!
Even MORE excitement when receiving the overall results of the Steak of Origin 2010, we find that we were in fact placed second to the Champion of Champions. What a thrill to produce a steak from a purebred Simmental animal that proved superior to the large number of traditional Angus, Hereford and Shorthorn entries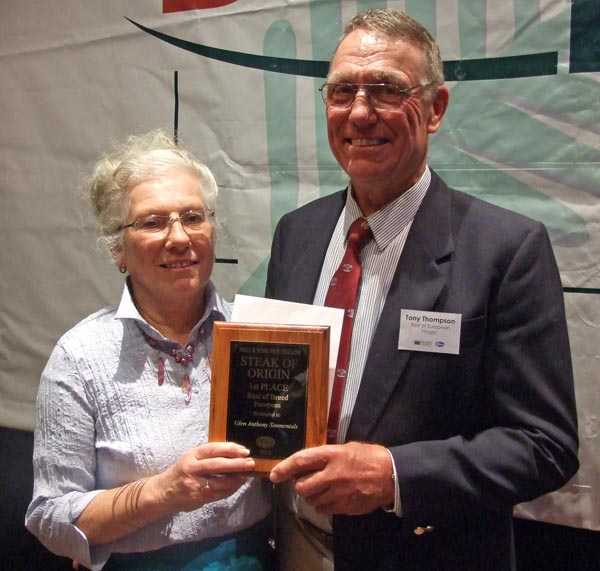 Just shows our breeding programme is not only producing beef cattle that look good they also taste good as well!
SUMMARY OF ENTRIES
Glen Anthony Warwick
Beef Expo Lot No. 23 - SOLD TO DAVID & JANE TIMPERLEY $7500

A fine upstanding young bull with smooth, soft fleshing. Warwick has an excellent temperament (docility score 1) and stands on good feet and legs.

A very well-balanced Yardtisck son, Warwick is scurred and has been semen and service tested. 200 straws of semen have been frozen for private use.

Birth weight 02/08/2008: 41Kg
R2YO weight 10/05/2010 : 866Kg

Sire: Monreid Yardstick

Glen Anthony Waterford
Beef Expo Lot No. 26 - NOT SOLD - NOW FOR STUD SALE BY PRIVATE TREATY - CONTACT Glen Anthony direct or Stud Stock Agents Bruce Orr or Tom Sutter

An excellent carcass bull with beef to burn. Carries himself well on a good set of feet and legs. Is semen and service tested with a high service capacity.

Waterford has an excellent temperament with a docility score of 1.

Birth weight 10/07/2008 : 48Kg
R2YO weight 10/05/2010 : 962Kg


Sire: Monreid Yardstick

Glen Anthony Winema
Beef Expo Lot No. 33 - SOLD TO DAVID KEON $2500

A lovely rising two year old heifer in calf to Glen Anthony Newry, due to calve 20th June 2010.

Winema shows good thickness of the hindquarters and a nicely set shoulder. good neck extension. Her mother, Glen Anthony Nina, was senior all-breeds champion and runner up in the Meat & Wool Cup at the Auckland Royal Easter Show.

Glen Anthony Xcess
Beef Expo Lot No. 34 - SOLD TO BRIAN ALDRIDGE $6200

A beautiful big, dark red heifer already approaching a liveweight of 500Kg (born 10th July 2009). She has her father's excellent carcass qualities showing exceptional length and depth.

Glen Anthony Xstacy
Beef Expo Lot No. 35 - RETAINED IN THE STUD

A lovely young heifer, full of character and excellent quality.

Once you see her, you'll just love her !!

Haylands Rupert

He is the sire of the three Beef Expo heifers. Rupert has all the good qualities one could ask for in a beef sire. Great feet and legs, length, thickness and depth of muscle expression.

In our herd he has shown a short gestation length and easy calving. Rupert has a high serving capacity and has been our 'go to' bull for any cows with problems getting in calf.

Rupert has seven rising two-year old sons in our sale - 11th June 2010.
SUMMARY OF RESULTS
21 horned and polled bulls were put up for sale, all semen and service tested, blood tested free of BVD and BVD vaccinated. Fifteen bulls sold to a top price of $7500 and an average of $3347 on behalf of Tony & Glennis Thompson • RD4, Waipukurau
HIGHLIGHTS
Glen Anthony WATERFORD ID: 0299 AW 0022E

Stud bull for sale by private treaty.

What an outstanding young bull: Soft muscling with lots of volume and capacity.
Holds himself well showing great strength along the spine and good balance.
Moves well, tracks straight and true on good feet and legs. Look at his hind quarter, good length hip to pin, and plenty of thickness deep in the lower thigh. A tidy sheath and an excellent testicle measurement of 43cm. Waterford was one of the top bulls in the herd for serving capacity and produced an excellent semen sample when collected in April. Waterford has an excellent temperament and is a good doer, growing out to 960 kg by early May 2010 on a diet of grass, hay and ad lib baleage.

He is an outstanding stud prospect.

SOLD FOR $7500

LOT 1
Glen Anthony WINDSOR ID: 0299 AW 0019
A big powerful bull with tons of muscle. An outstanding Rupert son, to start the sale - length, scale and thickness. Over 900kg - size does count!

SOLD FOR $4500

LOT 2
Glen Anthony WESTBROOK ID: 0299 AW 0015
A typical Yardstick son Westbrook is a big bull that stands tall and displays a smooth muscle pattern with width through the back and loin and depth in the hindquarter. Excellent growth figures - top five percent of the breed.

SOLD FOR $3700

LOT 3
Glen Anthony WOODSTOCK ID: 0299 AW 0027
Another Yardstick son with outstanding thickness, softness, and capacity. R2YO weight 830kg. He has a low birth weight EBV with well above average growth. Could he be an elusive curve bender?

SOLD FOR $4000

LOT 5
Glen Anthony WESTERN ID: 0299 AW 0070
Another young sire born on the last day of August. Look at his outstanding well balanced muscle pattern, his clean shoulder, his softness and quiet temperament.

SOLD FOR $3200

LOT 8
Glen Anthony WEXFORD ID: 0299 AW 0043
A long smooth docile bull with easy calving credentials as shown by his well set, smooth shoulder and his pedigree going back to both Tralee and Karlernst. Growth figures in the top twenty percent and milk - top one percent - a really well balanced young sire.

SOLD FOR $3000

LOT 12
Glen Anthony WALPOLE ID: 0299 AW 0094 Polled
A very young polled calf, born at the end of September. Walpole is a later maturing type showing excellent growth for age, above average growth figures and a good milk EBV in the top ten percent.

SOLD FOR $4100