2013 : Another stellar year.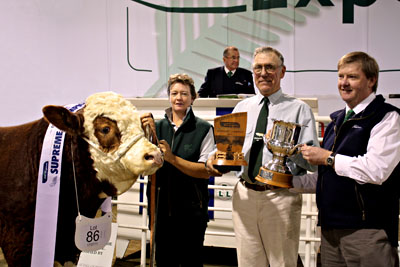 2013 BEEF EXPO: Another outstanding result for Glenanthony Simmentals with the new blood lines created by using Haylands Rupert over Yardstick daughters. Glenanthony Zodiac (0299AZ0022) not only won the Champion Simmental Award at the 2013 Beef Expo but also went on to win the Champion of Champions when four out of the six individual breed judges placed him first.
It has taken Tony Thompson 35 years of entering bulls in the national sales, more recently called Beef Expo, to finally win a Champion of Champions award. He is either a slow learner or he has simply outlasted the opposition!!
SUMMARY OF BEEF EXPO ENTRIES
Glenanthony Zodiac (AZ22). A top bull with great length, thickness and depth of muscle expression and an excellent temperament. Sue Wylie in attendance did an excellent job preparing and presenting Zodiac for sale. His win in the Champion of Champions was "bitter sweet" as he failed to meet our expectations in the sale ring. Although we failed to sell him as a stud bull we have to congratulate the buyers who are commercial farmers from the Hakataramea Valley in South Canterbury. They purchased Zodiac for $6000

Glenanthony Zambesi 0299AZ0034

Another outstanding example of the Rupert/Yardstick cross showing all the excellent carcass qualities of these two sires. Zambesi was only broken in a few weeks prior to Beef Expo, testament to his good termperament. Zambesi was sold again to the farmers of the Haka Valley where he will join Zodiac. His sale price was $8,500.

Glenanthony Aztec 0299AA0006

Aztec is a half brother to Zodiac by the polled American sire Bar 5 P SA Expert. He is a long, smooth calf, fully polled, with an excellent temperament. He was purchased by the Beresford Simmental Stud of Owaka for $3,000.

Glenanthony Attraction 0299AA0031

Attraction is a polled bull calf by the American sire Bar 5 P SA Evolution, a son of Expert. He has a lovely smooth muscle pattern and a very good temperament. He was purchased by Fritz Recher of Te Kuiti for $3,000.

Glenanthony Aroha 0299AA0055

A lovely soft heifer by Ruaview Scotch AT01 with lots of scope and size. A very well grown heifer for her age. Sold to Andrew & Tracey Neal for $3,000.

Glenanthony Amelia 0299AA0004

Amelia is a polled heifer, the result of an embryo transplant. Her sire is the German bull Steinadler who Glenis and I saw at the Munich Agricultural Exhibition in September 2012. To exhibit a big 8-year old bull at a show is no mean feat and Steinadler impressed us with his soundness and excellent carcass qualities. Amelia was passed in at the Queen of Hearts Sale and was purchased by Fritz Recher after we got her home for the asking price of $3,000.

Glenanthony Amber 0299AA0014

A lovely soft heifer showing the thickness so typical of the Rupert/Yardstick cross. Amber is a medium frame heifer who achieved a third placing in the show that preceded the Queen of Hearts Sale. She was purchased by Simmental Breed Society president Gary McCorkindale for $3,500.

Glenanthony Alma 0299AA0008

A big heifer for her age with tons of frame together with a smooth muscle pattern. Alma sold to Jo & Tim Barclay of Okawa Ltd., Te Awamutu for $2,750. Jo rang me a week after the sale enquiring as to the whereabouts of her recent purchase. On following up on my suggested contacts she was surprised to find her heifer had been sent to the Okawa Hereford Stud in Geraldine in mid-Canterbury. She has since returned to Te Awamutu none the worse for her experience.