The Yardstick Story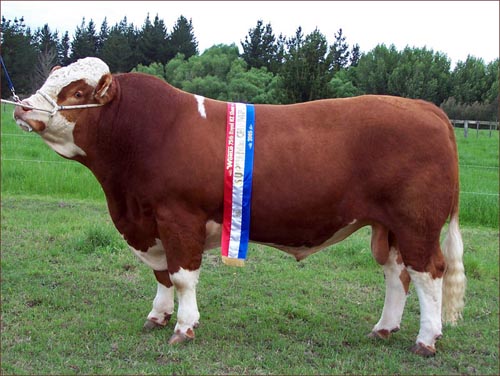 MONREID YARDSTICK
Supreme Champion across the Tasman
EASTER 2005 - Sydney Royal for Monreid • OCTOBER 2005 - Easter Royal for GlenAnthony
EASTER 2006 - Auckland Royal Show for GlenAnthony • NOVEMBER 2006 - Christchurch Royal Show for GlenAnthony
The only bull of any breed to win three Royal Show Meat & Wool Cup Championships in one 13 month period.
In April 2004 while on tour with the Simmental Society in Australia we saw a quality cow and calf at Rory and Patricia Murphy's Simmental Stud at Nundle just south of Tamworth N.S.W.
We thought a lot of the bull calf and indicated our interest to the Murphy's during the winter. He grew on very nicely and although November born reached 920kg liveweight by 16 months of age - Easter 2005. He went to the Sydney Royal Easter Show where he won Supreme Simmental Exhibit of the Show. Because of popular demand in Australia he was put up for sale. Tony traveled to Nundle in April that year and checked him out. He looked great. Plenty of width with muscularity. A great back line and well developed hind quarter. Plenty of softness, soundness and character.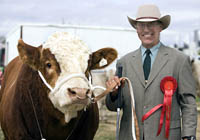 The rest is history. GlenAnthony purchased Yardstick and he arrived safely in New Zealand in July 2005 and quickly settled in to the Glen Anthony routine. He is so even tempered - nothing ruffles him. A lovely kind eye, a quiet nature, excellent confirmation and beef qualities to die for. At 2 1/2 years of age he weighed in excess of 1200kg and stood 60cm at the hips. He has uniform thickness right through, scanning 144 sqcm for EMA with great depth and width in his hind quarters. He has that special softness that is associated with carcass quality yet scans only 5mm of fat over the rib and rump area.
In the show ring he was unbeaten in 2005 and 2006 winning Meat & Wool Cups at the New Zealand Royal at Hamilton in November 05, the Best of Beef at Feilding in March 2006 the Auckland Royal Easter Show 2006 and the N Z Royal in Christchurch in Nov. 2006. As well as this he was judged supreme exhibit of all stock entered, including dairy, pigs, sheep, alpacas and horses at the N.Z. Royal 2005, the Auckland Royal Easter Show 2006, the N.Z.Royal 2006 and again at the Royal Easter Show 2007, an amazing achievement.
From Glen Anthony's viewpoint success was enjoyable but the most satisfying aspect of showing was the way the beef experts accepted and commented on Yardstick's beef qualities and conformation. The complimentary comments of breed judges, breeders from other breeds and commercial people alike were encouraging and very much appreciated. Yardstick's progeny have proven to be all we expected. They have good temperaments, their fathers kind eye and facial markings and excellent carcass qualities. Already they have impressed our peers who have stood as cattle judges at the 2008 Autumn shows. Yardstick progeny from three different studs have dominated allbreeds calf and yearling classes at Feilding Best of Beef 2008 and 2009, and the Auckland Royal Easter Show
2008. Glen Anthony Tundra won both yearling bull classes and was runner-up in the Meat and Wool Cup at the Auckland Royal Easter Show, and this year another yearling bull Glen Anthony Utah won the Meat & Wool Cup at the Fielding Best of Beef Show.
Yardstick is still a Trans Tasman trait leader for 600-day weight and is definitely making his mark on the Simmental breed in Australia and New Zealand.