Haylands Rupert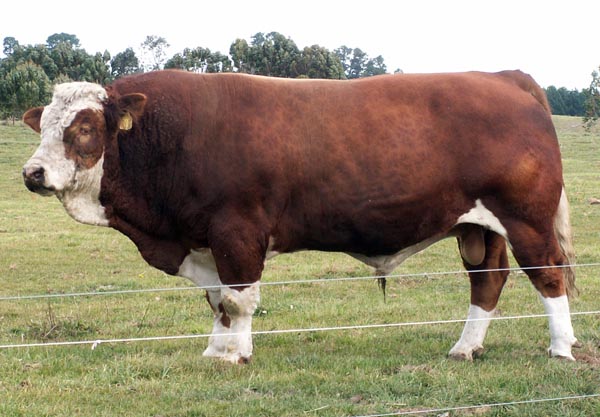 In November 2006 Glenanthony ventured south with their well-renowned show team headed by the newly imported Monreid Yardstick. The team performed extremely well, winning three out of the four breed championships and five out of the six major interbreed competitions including Yardstick's win in the Meat and Wool Cup.
The only show classes in which we were beaten were those involving the yearling bull Haylands Rupert. Rupert was judged the Junior Champion Simmental bull. The All Breeds Champion Yearling Bull and the winner of the Junior Meat & Wool Cup. We decided that if you can't beat 'em you'd be best to buy 'em. Luckily we had room on the truck and so Rupert came home with us to Waipukurau.
Since that time Rupert has sired many outstanding progeny especially bulls produced by mating to Yardstick daughters. In the main these have been powerful young sires noted for their thickness and depth of muscle pattern and good frame size. Those sold at our June 2012 bull sale were outstanding examples who reached their full potential after the best growing summer in Central Hawkes Bay for fifty years. At the 2012 sale the top Rupert/Yarstick bred bull, Glenanthony Yamada sold to the Kerrah Simmental Stud of the Knauf family from Nuhaka for $9,000.
2013 is noted for the emergence of Glenanthony Zodiac to Champion of Champion status at the 2013 Beef Expo. Zodiac is one of the best Rupert sons that we have produced, being out of the very good Yardstick cow in Glenanthony AU112. He has all the attributes we have been looking for in a beef herd sire - an excellent sire's outlook, great length, strength of spine, thickness through the back and loin and depth of hindquarter. He stands on good feet and legs and has a very good temperament.
All good things tend to come to an end. From the beginning Rupert displayed excellent libido and cow-settling ability and was always the 'go to' bull in our herd if we couldn't appear to get a cow in calf. Sadly in the 2011 breeding season his keeness to serve ended in a career-ending injury to his back and try as we might with all the veterinary attention in the world we failed to return him to his former serving ability. We have plenty of semen to carry on with even though we no longer have him with us,